Embarking on the Home Brew Recipe Journey
When I first ventured into the art of home brewing, it felt like learning a new language. The home brew recipe was my dictionary, yet deciphering it seemed like solving a cryptic crossword. It had various abbreviations, notations, and terms that were baffling. Can you relate to that feeling of standing in a foreign country, trying to interpret signs? But don't worry, as with any skill, understanding these mystical documents is a matter of patience, practice, and a bit of guidance. And that's what I aim to provide you in this friendly chat.
Key Elements in a Home Brew Recipe
A home brew recipe isn't just a list of ingredients and steps. It is a framework that guides you in making a particular style of beer. The recipe details specifics about ingredients, quantities, and the brewing process.
Ingredients: This part of the home brew recipe specifies what you'll need to create your beer. It's like a shopping list, but instead of bread and milk, you're looking for malts, hops, and yeast. Each ingredient plays a unique role, akin to how eggs give structure to a cake and sugar sweetens it.
Quantities: Like any other recipe, quantities are vital in a home brew recipe. It's about how much malt to extract the right amount of sugars, or how many hops to achieve the desired bitterness. Imagine making a curry and not knowing whether to add one or ten chilies – that's how critical quantities are!
Process: Each home brew recipe includes the steps you must follow. It's your roadmap through the brewing adventure, providing direction on when to add ingredients, how long to boil them, and other vital actions.
Understanding Ingredients in a Home Brew Recipe
Let's delve deeper into these ingredients. Each element contributes something to the final product.
Malt
Malt is your primary source of sugar, the magic element that yeast converts into alcohol. Think of malt as the heart of your brew, the source of its body, color, and a substantial part of its flavor. The amount and type of malt specified in a home brew recipe can dramatically alter the final product. Different malts can bring chocolate, caramel, or even biscuit-like flavors to your beer.
Hops
Ah, hops, the soul of the beer. Hops contribute to the beer's bitterness, balancing out the sweetness of the malt. But hops aren't just about bitterness. They also add aroma and flavor, with different varieties imparting notes of everything from citrus to pine, floral to spicy. The home brew recipe will specify when to add hops during the boiling process, which impacts bitterness, flavor, or aroma.
Yeast
The unsung hero of any home brew recipe is yeast. These microscopic fungi munch on the sugar from malt and excrete alcohol, carbon dioxide, and various flavor compounds. The yeast strain you choose can have a substantial impact on your beer, and your home brew recipe will guide you in this crucial choice.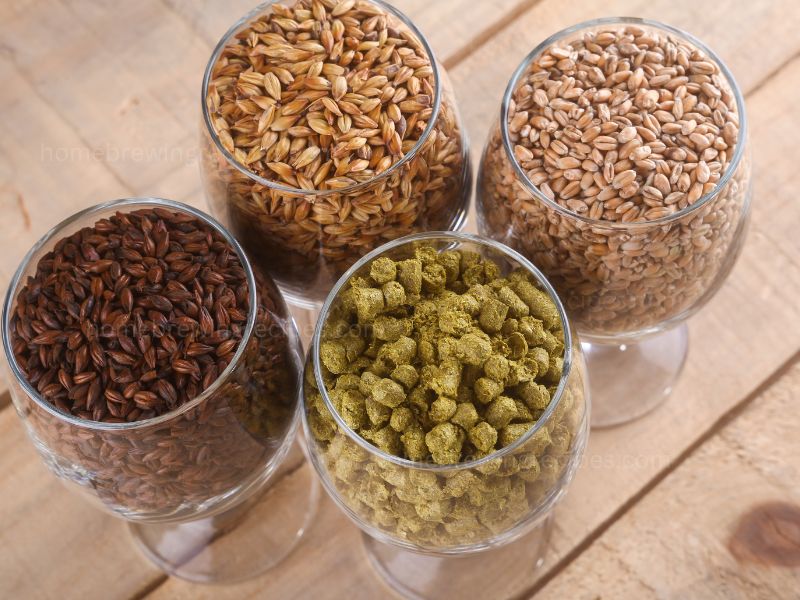 Timing is Everything
One thing I've learned is that home brewing isn't just about what you do; it's about when you do it. Each step has a specific time, from boiling the ingredients to fermenting the brew. Timing plays a massive role in how your beer will turn out.
Boiling times in a home brew recipe dictate when certain ingredients are added. This timing impacts how much of each ingredient's properties will be extracted. For example, hops added early in the boil contribute more bitterness but less aroma, while those added later provide the opposite effect.
Then there's fermentation, where timing plays an even more crucial role. Your home brew recipe will specify a range of days for primary and secondary fermentation. It's this time that allows yeast to work its magic, turning malt sugars into alcohol and giving your beer its unique character.
Scaling and Adjusting Your Home Brew Recipe
Have you ever taken a recipe meant for four people and tried to adjust it for a dinner party of twelve? Scaling a home brew recipe can feel just as daunting. But fear not! Once you understand the core components and what each contributes to the final brew, you'll be able to adjust and scale recipes with confidence. Remember, scaling isn't always as simple as multiplying everything by a factor. Each ingredient's impact on the overall brew can change based on quantities, so tread carefully and always consider how each adjustment could affect the final product.
Extra Tips for Reading a Home Brew Recipe
A home brew recipe may come with specific instructions for the type of water to use or suggest modifications for brewing equipment. Don't dismiss these as trivial; even small details can significantly impact the final brew. Also, look out for any notes about expected original gravity (OG) and final gravity (FG). These values provide an indication of the beer's potential alcohol content and offer a benchmark to help you understand if your brewing process is on the right track.
Remember, brewing is both science and art. Embrace the process, learn from each batch, and always take notes. This will help you refine your technique and understanding of home brew recipes over time.
No one becomes a master brewer overnight. It takes time, patience, and a fair amount of trial and error. But with every batch you brew, you'll gain a better understanding of what each component of the home brew recipe contributes, and you'll become more comfortable tweaking recipes to suit your taste. So embrace the journey, relish each brewing session, and before you know it, you'll be creating your own home brew recipes.
This concludes my take on "How to read a home brew recipe." Happy brewing, my friends!
© 2023 homebrewingrecipes.com. All rights reserved. No part of this document may be reproduced or transmitted in any form or by any means, electronic, mechanical, photocopying, recording, or otherwise, without prior written permission of homebrewingrecipes.com.